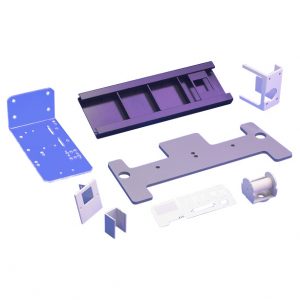 Design and production of plastic parts
To guarantee maximum responsiveness and the shortest possible lead times, REVOLUPLAST designs and produces all its bespoke plastic parts by machining before assembling them (by folding or bending).
REVOLUPLAST is equipped with modern CNC machining centres and a highly efficient machining and cutting workshop, comprising both 3-axis milling and laser cutting stations, combined with our CAD-CAM workstations..
This allows us to not only produce all kinds of sub-assemblies by plastic working to manufacture plastic housings or casings, bespoke plastic terminals or claddings, as well as to machine plates, front panels and faceplates, and to design mounts or bespoke cut plastic parts using thermoplastic sheets.
Likewise, plastic mounts or insulating enclosures for electrical or electronic equipment can be rapidly produced. This manufacturing principle is also ideally suited to certain display stands or technical parts in the field of POS.
These plastic parts do not make use of tooling and avoid the need to have plastic parts moulded , thereby allowing us to very easily respond to requests for small and medium runs (a few dozen to several thousand units per launch) without the need for major investment.
One of the first key transformation stages in our process is machining our ABS, PS, PC, PMMA (Plexi) or PVC sheets with thicknesses that are most often between 2 and 20 mm, within good tolerances.
To ensure greater responsiveness, a large stock of thermoplastic sheets is available on our site. Different batch-dyed colours are available and, failing this, paint and varnish coatings can be applied by our paint shop for various uses and finishes.
Marking too, whether by silk-screen printing or digital printing, is performed on site and offers numerous options in terms of customisation with the aid of our designer.
For the most complex plastic parts and in larger dimensional volumes, we work with SolidWorks software; DXF, DWG, IGS, STP, STL and AI type 2d and 3d formats can be used by our design office.
Revoluplast also means:
plastic working - plastic casings - plastic electronics casings - plastic housings - plastic machining - plastic boilermaking - no-mould plastics manufacturing
Examples of plastic mounts and parts