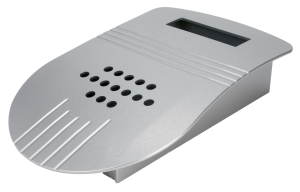 Production of control desks to your dimensions
A control desk differs from a casing by a certain slope of one or more sides.
Our plastic working expertise allows us to produce a control desk that will become your own. This offers you a great alternative to producing a mould for plastic injection moulding.
Countersinking for positioning a flexible keyboard, openings for connectors, engraving of your logo, protective varnish or paint: we offer you the option of customising your control desk casings.
Let's talk about your control desk!
The characteristics of plastic control desk:
work from a drawing or design on the basis of a model or specifications
Little up-front investment
Flexibility in the event of changes
Flexibility and responsiveness, a part for approval within 2 to 3 weeks
Marking by digital or silk-screen printing
A range of accessories, inserts and screw and bolts
Revoluplast works with various sectors to design plastic stands
All industries
Electronics
Medical
Electricity
Instrumentation
We are here to discuss your project. Our more than 30 years' experience of producing plastic control desks allows us to find solutions and produce your runs of plastic control desks in between 4 and 5 weeks (variable lead time depending on the complexity of the part).
Revoluplast also means:
plastic working - plastic casings - plastic electronics casings - plastic housings - plastic machining - plastic boilermaking - no-mould plastics manufacturing
Examples of plastic stands