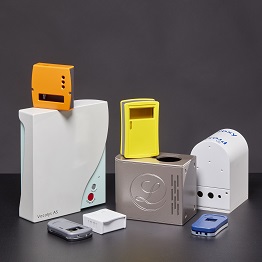 Since 1990, REVOLUPLAST has been designing and manufacturing quality plastic housings, made to measure and without moulds, for small and medium-sized series.
Our team of technicians will support you in your project, while ensuring that your specifications are met, from the prototyping phase to the manufacture of your plastic case.
Do you have a plastic housing project? REVOLUPLAST can help you!
Are you looking for a subcontractor who is an expert in his field and capable of producing plastic enclosures in small and medium quantities? REVOLUPLAST designs and manufactures plastic enclosures to meet the needs of professionals in the industrial, tertiary, medical, pharmaceutical, food-processing and cosmetics sectors, etc.
The main advantages of a plastic case:
We mainly design plastic enclosures to meet the technical needs of protecting your equipment and your employees, or to cover your enclosures with an aesthetic aspect.
Protection of your equipment (computer equipment, electronic cards, etc.)
The safety of your teams (enclosure to protect people; insulating protection against waves thanks to EMC shielding, etc.)
Aesthetic cover for your equipment (dynamic displays, tactile terminals, desks, etc.)Plastic casings made to your dimensions without reworking by machining.
The production of your series of plastic casings with REVOLUPLAST:
Plastic enclosures without moulds, made to measure and without reworking:
A more economical process than plastic injection for launches of up to 2000 units or when the mechanics can evolve...
The absence of a mould avoids costly tooling investments, and above all allows for rapid mechanical changes, with a minimum of constraints.
A short design and delivery cycle of 4 to 8 weeks.
Integration of accessories for your plastic housing:
To optimise lead times, our workshops can integrate accessories into the assembly of your plastic case, such as a front panel, a handle, a support, columns, inserts, hinges, etc.
Are you looking to stand out from the crowd? Our designer can give your existing case a new look or offer you a preliminary project to design your new plastic case, with a real visual identity!
You want a customised plastic case? We can paint, varnish, engrave or apply your logo or digital printing.
Each option proposed is also carried out in our workshops to guarantee a controlled manufacturing process and deadlines.
Bespoke and customisable plastic casings:
Our team will be able to assist you throughout your plastic casing creation project:
Listening to your needs
Quote
Prototyping
Design conception
Manufacturing
Assembly
Our plus which makes the difference :
Design: Revoluplast offers you a customised design for your plastic boxes to distinguish you from your competitors and extend your visibility (addition of your company logo, customised colours, etc.)
The choice of finishes: Depending on your needs, we can advise you on the finishes to be applied to your plastic housings to optimise their use while minimising external constraints (EMC shielding, UV protection, etc.)
A specific need to protect your electronic system?
Our expertise in plastic sheet metal enables us to design enclosures adapted to certain conditions or specific areas of use (radio, sealing, tolerances, mechanical or UV resistance, fire standards, etc.).
Do you have a question? Our team is at your disposal to answer you, so don't hesitate to contact us!
Revoluplast also means:
plastic working - plastic electronics casings - plastic housings - plastic machining - plastic boilermaking - no-mould plastics manufacturing