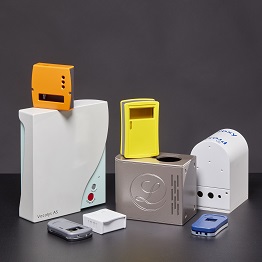 Entrust us with the production of your plastic casing
The advantages of having your plastic casings made by Revoluplast:
Plastic casings made to your dimensions without reworking by machining.
A more cost-effective process than plastic injection moulding for roll-outs < of 2000 units or where the engineering could change. The absence of a mould eliminates the need for investment in expensive tooling and, above all, allows you to make rapid engineering changes, with as little constraints as possible.
A short design to delivery cycle for plastic casings: less than 8 weeks.
Customisable plastic casings.
Whether the aim is to facilitate the integration of your PCB, to trim your equipment or to stand out from your competitors, our technicians will be able to advise you and design a suitable plastic casing that meets your specifications.
Does your plastic casing need to protect your electronic system in a specific environment? Our plastic working expertise allows us to design suitable casings for certain conditions or specific uses (radio, watertightness, tolerances, mechanical strength or UV resistance, fire standards, etc.).
Do you have a plastic casing project? We have solutions!
If you are looking for a subcontractor that is able to make you plastic casings in small or medium quantities: We produce runs from just ten units.
If you need to integrate accessories for your plastic casing, such as a front panel, handle, mount or small columns: our workshops are able to offer you these in-house to optimise lead times.
If you are looking to stand out: our designer can restyle your existing casing or offer you an initial design service to create your new plastic casing with a true visual identity.
If you would like a customised plastic casing: we can, as you wish, offer to paint, varnish or engrave it or apply your logo and markings using digital printing.
Each option can also be carried out in our workshops, to guarantee you a controlled production process and lead times.
Revoluplast also means:
plastic working - plastic electronics casings - plastic housings - plastic machining - plastic boilermaking - no-mould plastics manufacturing