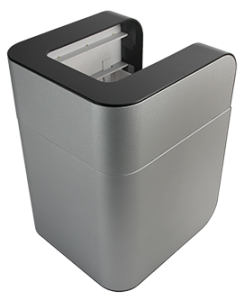 The guard: a protective or trim function
A plastic guard for machines is necessarily bespoke and tailored to your equipment.
But why not provide it with an identity-giving function, in addition to its technical function?
We manufacture customisable bespoke plastic guards, without a mould, which will allow you:
to have protection that is perfectly suited to your equipment.
to stand out from your competitors.
Whatever your constraints, which are inherent to the use or environmental conditions, our experience will enable us to advise you and to produce a guard that closely matches your expectations and your specifications.
Please don't hesitate to contact us to talk about your guard, cover or plastic cladding project!
A Revoluplast bespoke plastic guard
The guard is a crucial tool in guaranteeing the best possible protection for certain devices or equipment.
Therefore, a plastic guard necessarily needs to be bespoke in order to completely ensure its protective function, as well as to play a part in cladding the machine. These are the reasons why REVOLUPLAST, a specialist in no-mould plastics manufacturing, places its expertise in terms of designing and producing bespoke and fully customisable plastic guards at your disposal.
Each guard thereby enables you to benefit from maximum protection, which is perfectly tailored to your machines. As each guard model is customisable, it is possible for you to stand out from your competitors.
High-quality REVOLUPLAST guards
A knowledge of various thermoplastic materials, combined with an unrivalled command and technical competence in terms of plastic machining and working, enables REVOLUPLAST to design and then produce a bespoke plastic guard, without a mould or tooling. The expertise of its team and their process guarantee you high-quality plastic parts. Whatever your requirements, including, for example, the thickness constraints of a particular guard model: our team examines each request and tries to find a solution. REVOLUPLAST's professionalism is appreciated for the quality and variety of the services it offers, from the project study phase to production.
Revoluplast also means:
plastic working - plastic casings - plastic electronics casings - plastic housings - plastic machining - plastic boilermaking - no-mould plastics manufacturing
Examples of plastic guards