Design and production of bespoke plastic terminals.
Each terminal project is unique!
Understanding, Analysis and Discussion: these are the 3 key stages in designing a terminal that will satisfy your requirements and meet your needs.
Interactive terminals, access terminals, we produce plastic covers and stands to your measurements in short and medium runs.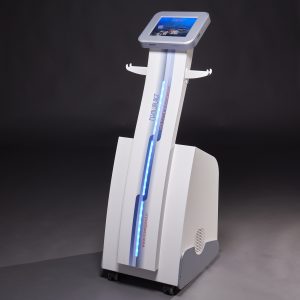 We take account of your technical constraints: we offer you solutions and tips for integrating your electronic system, among other things, without neglecting the look of the plastic cladding.
Customisable, elegant, functional, lightweight and easy to transport: benefit from our plastic working expertise to have your bespoke plastic terminal produced.
No surprises: we produce a part for approval using the same machining centres as for the forthcoming production run, to enable you to test and confirm the integration of your equipment and to make adjustments if necessary.
Does your terminal need to evolve over the course of its life cycle?
Do you need to roll it out in different customised versions?
Is your project starting and, at the moment, you only need ten or so terminals?
In this case, our technology is exactly what you need because it is far more cost-effective for this type of run, which is hardly ever larger than 1000 units and uses no-mould plastics manufacturing, and is much more flexible than thermoforming and plastic injection moulding when a product needs to be produced in small or medium quantities.
A distinct advantage: the materials used, including in 3, 4, 6 or 8 mm thicknesses, are far lighter than sheet (metal): handling them is also easier and transport costs are much lower.
A plastic enclosure can also be based on a metal structure or skeleton to benefit from the best aspects of each technique and be complementary; we can use a design study to offer you mixed solutions.
Revoluplast also means:
plastic working - plastic casings - plastic electronics casings - plastic housings - plastic machining - plastic boilermaking - no-mould plastics manufacturing
Examples of plastic terminals