Plastic machining
The most widely used method for plastic transformation and the mass production of parts is plastic injection moulding.
However, this technology involves lengthy and often costly stages, including the investment involved in creating one or more moulds.
If not required by the particular shape, plastic injection moulding is an expensive process for producing plastic casings and cladding in short and medium runs.
Our process can also be a suitable alternative for larger runs should engineering changes prove necessary over the course of the product's life cycle.
Everything starts with machining plastic sheets.
Thanks to its expertise and 3-axis machining techniques, Revoluplast has a comprehensive and high-performance range of machines.
The plastic sheets are custom cut and machined (plastic machining using CNC milling or laser cutting for thicknesses of 1.5 to 15 mm), with tolerances of just a few tenths.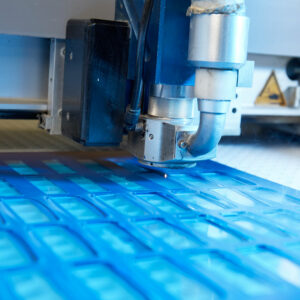 Revoluplast regularly invests in order to have an appropriate number of sufficiently modern machines to respond immediately to customer requests.
CNC milling: Milling allows hollow shapes to be created in the plastic.
Milling is something of an add-on to turning techniques.
Our machining centres are particularly suited to machining rigid plastic materials.
They are equipped with vacuum tables enabling these materials to be secured during milling and a loader with several rotary tools.
The programs developed are optimised and automatically reproduce all the operations at high speeds.
Laser cutting for acrylic materials: laser cutting is particularly suitable for working with PMMA.
Laser cutting produces polished and transparent cut edges, as well as radius-free inner contours.
Technical and aesthetic options
Our plastic machining expertise, our equipment and our stock of plastic sheets are real assets, allowing us to rapidly manufacture all kinds of parts from drawings for you.
All machining operations take place in situ: no reworking by machining, everything is planned from the start and produced using the same machining centres, for both prototypes and mass produced parts, thereby reducing the design and production cycles.
There are numerous technical and aesthetic options:
Openings for connectors,a chamfer/bevel to improve the part's appearance,
Countersinking to position a flexible keyboard,
Recesses for labels,
Ventilation, ventilation openings.
Revoluplast also means:
plastic casings – plastic electronics casings – plastic housings – plastic boilermaking – no-mould plastics manufacturing – plastic working