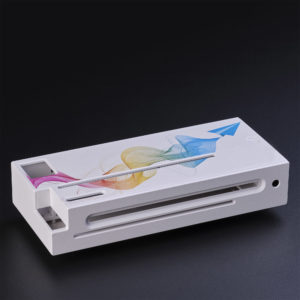 Production of customisable bespoke plastic casings and claddings
Paint options for the colour or digital or silk-screen printing and the addition of engraving
Never go unnoticed again, stand out!
REVOLUPLAST designs and produces all kinds of bespoke plastic casings and can customise them on your request, with specific accessories and machining.
Remote control casings, plastic RFID cases, badge readers, configuration casings, access terminals or terminals with digital displays (dynamic POS, touch tables, HMIs, etc.).
Depending on the intended use or your target markets, your equipment is recognisable by its graphic identity (dimensions, shape, colour, marking or logo). Our products are bespoke and, therefore, customised, ask for this on your initial consultation and we will take account of it in our designs.
Our stock of materials includes all types of plastics, with properties, UV and heat resistances or UL fire resistance standards.
Our ranges of colours and looks (fine textures or smooth), depending on the thicknesses of the available materials, allow us to move away from the application of paint.
Our digital printing marking techniques permit photo and four-colour rendering without the need to create tools.
The shape of your plastic part, its design and your production quantities do not necessarily require you to invest in a mould or complex tooling. With our no-mould process, machining and bending can change from one run to another.
At REVOLUPLAST we are committed to simplifying assembly for you and to finding solutions for integration into your electronic casing or mounting on your equipment.
Revoluplast also means:
plastic working - plastic casings - plastic electronics casings - plastic housings - plastic machining - plastic boilermaking - no-mould plastics manufacturing
Examples of customised plastic casings