The design of your future plastic parts
A number of vital stages
A preliminary technical and commercial study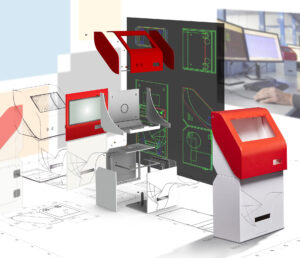 Drawing up precise technical specifications enables all the project's characteristics to be listed, in order to offer you the most suitable and cost-effective solution.
The technical and commercial department is always there to discuss your needs, the specifications, the intended use of your specific casings and to determine the key aspects of your project's specifications with you.
Based on the available information and the services requested, you will be issued with a quote, which includes designing the machining program and producing a prototype for approval.
A unit price estimate will be costed for you on the basis of the material chosen, the desired quantities for each delivery and possible options.
A wide range of materials in stock
We have a large and varied stock of plastic materials (material, colour, thickness, fire resistance, UV resistance, etc.), which allows us to best respond proactively to your needs.
The main materials stocked: ABS, PS, PMMA, PC, PVC, etc. (Smooth or textured, batch-dyed, etc.)
CAD-CAM: Computer-Aided Design and Manufacturing.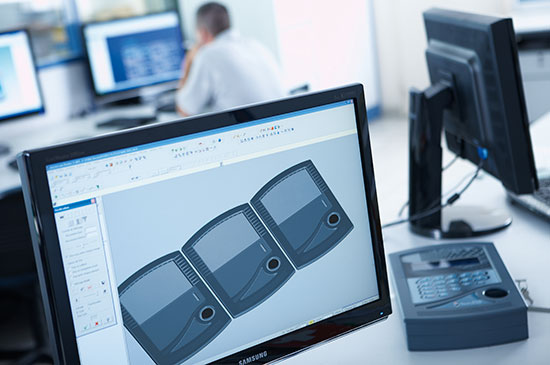 Following technical transcription and definition of your information, we can work from a drawing (2D or 3D files in DXF, STEP, SolidWorks formats, etc.) and more simply from a sketch, a model or content (PCB, screen, equipment, accessories, etc.)
The design of machining programs for each sub-assembly will be generated by this first stage and will enable a bespoke engineering prototype to be machined and produced.
You will be supplied with this qualification part for integration testing and approval by you.
The necessary adjustments or modifications will then be incorporated before launching the production of your runs.
Our design office has more than 30 years' experience of design and the method that we are placing at your disposal.
Graphics and design.

Our services may also include 2D or 3D modelling as part of a design or graphic study and in addition to designing machining programs.
A defined visual identity will guarantee you a customised and enhanced product.
For a more customised product, with a meticulous and attractive design, please don't hesitate to request this option before the prototyping stage in order for the quote to include this service.
If you already have your own partners or design department, we will be happy to work with them to obtain the best results.
Revoluplast also means:
plastic casings – plastic electronics casings – plastic housings – plastic machining – plastic boilermaking – no-mould plastics manufacturing – plastic working